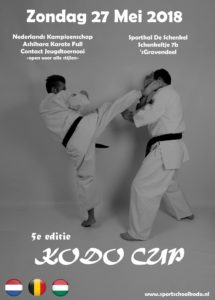 On Sunday, May 14th 2017 Sensei Roy Nispeling and his father Sensei Henk Nispeling organized the 4th edition of the Kodo Cup at the "de Schenkel" in 's-Gravendeel.
Because of a full set agenda regarding events in the karate world, the tournament was held on Mother's Day this year.
The registration ended a month before the tournament with a maximum number of  170 fighters divided over 2 mats.
As the AIKO is expanding with country's like Italy, Hungary and even Turkey. For this edition a delagation of fighters from Hungary came with the bus and  follow-up cars especially for the Kodo Cup to the Netherlands. There were also fighters from Belgium and a total of 22 Dojo's came along.
The check-in of fighters and the weighing proceeded smoothly so that the tournament could start on time after the Dojo's and Fighters display round.
You could see that some Dojo's had prepared the fighters for the tournament rules. There were spectacular matches to see, fights with passion and superb techniques. Also a lot of praise for the main referees and the corner referees who supervised the matches and kept an eye on eventual fouls or accidents.
Respect also for  the coaches who accompanied the fighters, everybody stayed relaxed even after referees decisions had been taken, no bad words were said and the whole atmosphere was relaxed and respectful.
Coach of the tournament became the widely respected Ger Hoogeveen of Budokai Vleesenbeek, and the spirit prize went to Fazekas Zsanett (Hungary).
Our big thanks go to the sponsors, vvolunteers, referees, Vera from the cafeteria of "Sporthal de Schenkel" and everyone who helped to bring the Kodo Cup to a higher level.
Up to the 5th edition of the Kodo Cup in 2018. This is on Sunday, May 27, 2018
So note this event in your agenda so you can participate.

Many thanks to Sensei Roy Nispeling and Sensei Henk Nispeling for this great event!
OSU