Italy is growing rapidly in AIKO members, black belts and instructors, which is for our AIKO a challenge to support and give the best to these motivated Budoka and on short term we work out the plans for Italy.
Ludovico Alberto Cannas has started his martial arts career 35 years ago with Shotokan Karate. He was promoted as Shodan directly by Hiroshi Shirai Sensei, today 10° Dan.
Some years later he switched to Kyokushinkai Karate under Alberto Becher Merli Sensei and after he converted to Ashihara Karate.
He got his Nidan directly under the vision of David Cook Sensei and Kancho Ashihara in 1992.
Sensei Alberto participated in various events, such as international camps in Viborg (Denmark) and tournaments, like the Sabaki Challenge Spirit.
In Italy he is teaching Karate from 1990 in his Dojo "Fighting Karate Libertas" established in Giove (Terni) with many students.
The Dojo and students participate in several competitions in Ashihara Karate, Kyokushin, Kickboxing in Italy and now they still actively participating in various competitions and seminars in various disciplines like Kickboxing, Muay Thai, Full-Contact Karate).
In the picture from the left:
• Sempai Marco Alunni
• Sempai Andrea Lorenzoni
• Sensei Ludovico Alberto Cannas
• Sempai Elia Pauselli
• Sempai Guglielmo Barone
• Sempai Pietro Bussotti
Warm welcome to Alberto Cannas to our AIKO family.
Osu,
Dave Jonkers Shihan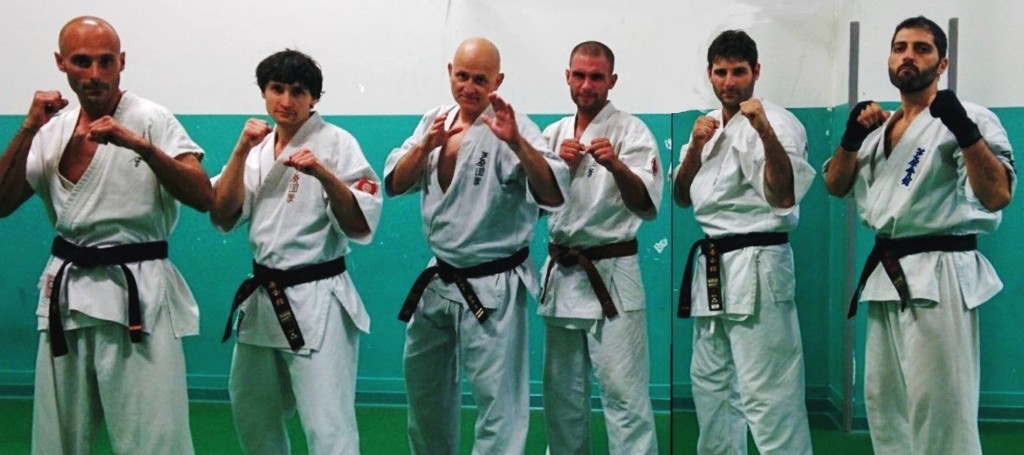 .