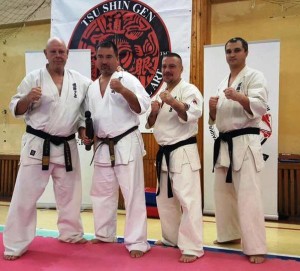 From 14 to 16 October 2016 a training camp was held under supervision of Knockdown Karate Federation of Russia in the Moscow hotel "Salute".( Pushkin region)
Trainings sessions were conducted under the supervision of Shihan Titenkov, Sensei Zykin and Sensei Meshcheryakov.
…
As the main instructor two-day camp, which was attended by more than 90 athletes from Moscow, Moscow region and other regions of Russia, the president of the international Ashihara International Karate, Shihan Dave Jonkers (7th Dan), was invited for this event.
The camp program included training sessions on techniques of Karate Ashihara International, Kickboxing, Tsu Shin Gen and functional training.
Dave Jonkers Shihan gladly shared with the participants the secrets of his skill and features training fighters at the highest level.
The culmination was the Sunday with grading of Ashihara International and Tsu Shin Gen participants.
Exam results:
4th kyu
Alexey Sergeev (coach Zykin AA)
Strom Kirill (Babaev, SB)
Simon Borg (Anaya OG)
Abu Mohammed Rizik (Anaya OG)
Pavel Zhuravlev (Anaya OG)
Konoplev Roman (Anaya OG)
Malov Artem (Anaya OG)
Malova Elizabeth (Anaya OG)
3rd kyu
Turishcheva Diana (Zykin AA)
Evgeny Akimov (Zykin AA)
Akulinin Nikita (Zykin AA)
Chalov Artem (Anaya OG)
2nd kyu
Fedotov Juliana (Zykin AA)
Ruslan Mirzoev (Anaya OG)
1st kyu
Shaparov Anton (Zykin AA)
Klimovskii Anton (Zykin AA)
Andrei Kozlov (Akopyan AV)
Andrei Borisenko (Akopyan AV)
Eduard Vlasov (Babaev, SB)
Sergey Lebedev (Babaev, SB)
Nikita Voronin (Anaya OG)
1st Dan
Gasimov Punhana (Anaya OG)
2nd Dan
Armen Akopyan (Hakobyan AV)
Babayev Sarwan (Yanov AV)
Gasimli Rahim (Anaya OG)
Also, on the basis his contribution to the development of karate in Russia, Alexandr Yanov was awarded the rank of 5th dan .
Shihan Dave Jonkers noted that it is necessary to continue in this way and develop Ashihara Karate International in our country, as in Russia with huge potential and excellent athletes.
All athletes have stood the test with dignity, passed tameshiwari tests and spent the allotted number of fights.
Shihan Jonkers appreciated the high level of Russian athletes and excellent organization of the camp.
After the Camp, October 17th , the delegation of the Federation Knockdown Karate Russia (A.Yanov, S.Semenov, A.Zykin, N.Mescheryakov) accompanied with Shihan D.Jonkers, visited RUMA's office and met with the President of the Federation of Karate from Russia, executive director RUMA
P .Gabbasovym.
The meeting discussed issues of further cooperation with the international organization Ashihara Karate International, in particular the December international conference, a summer camp in Anapa, joining international tournaments, etc.
Source:
http://nkkf.ru/…/compo…/k2/item/757-vserossijskij-budo-lager